Lebanese PM: We are all paying the price for the spread of weapons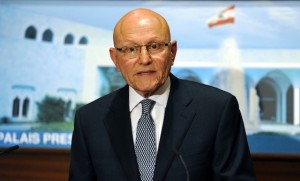 Prime Minister Tammam Salam condemned on Sunday the clashes that broke out at at dawn near Beirut's Sports City, saying that they are part of the "ongoing developments that violate the state's authority," reported Voice of Lebanon radio (100.5).
He blamed in a statement the unrest on the spread of weapons among the people.
He therefore urged the need to bolster security agencies in Lebanon, adding that no sect in the country enjoys impunity.
"We are all paying the price" for the unrest, noted the premier.
Salam therefore urged the need for all forces to set aside their disputes in order to protect the Lebanese people's security and future.
Clashes erupted at dawn on Sunday between Arab Movement Party supporters and Salafists near the Sports City area in Beirut.
One person was killed and 13 people were wounded in the fighting.
The heavy deployment of the army in the neighborhood put an end to the unrest.
Naharnet