Khodorkovsky: Putin's Russia Not Law-Based State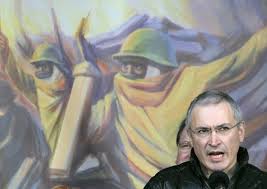 Mikhail Khodorkovsky, the Russian ex-billionaire who spent a decade in prison after opposing President Vladimir Putin, in his most public criticism since being released in December backed the anti-Kremlin uprising in Ukraine and called for Western support against Russia.
A crowd at the Kiev Polytechnic Institute gave Khodorkovsky a standing ovation when he arrived and frequently applauded as he gave a lecture and took questions. He said neither Russia currently nor Ukraine under ousted President Viktor Yanukovych were "law-based" states. The West should provide financial aid to Ukraine as security against Russia, he said, invoking the post-World War II Marshall Plan program that sought to bolster Europe economically and fight the spread of Soviet communism.
Once Russia's richest man, Khodorkovsky was imprisoned for tax evasion and fraud before Putin issued a surprise pardon in December. Ukraine is facing the loss of its Crimea region following last month's ouster of Moscow-backed Yanukovych. Pro-Kremlin troops have occupied the peninsula, home to Russia's Black Sea Fleet, before a referendum on March 16 on whether to secede.
"Legal states exist only where and when there is a separation of powers, an independent judiciary and real changes in power as a result of elections," Khodorkovsky said. "It's completely clear that there's nothing of the sort in Ukraine under Viktor Yanukovych or in Russia under Vladimir Putin."
'Historic Mistake'
Russian interference in Ukraine's revolution is a "historic mistake" and Crimea should remain part of Ukraine with broad autonomy similar to Scotland's, Khodorkovsky said.
"What is needed is a Marshall Plan for Ukraine," Khodorkovsky said. "We need not only money but also an anti-corruption element."
The anti-government protests that toppled Yanukovych were triggered in November when the then-president withdrew from an association agreement with the European Union in favor of $15 billion in loans from Moscow and a natural gas price discount.
Khodorkovsky's message appeals to Ukrainians who are seeking to align their country with the European Union, Fredrik Erixon, director of the European Centre for International Political Economy in Brussels, said by phone today.
"Khodorkovsky is a galvanizing person for everyone who holds a grudge against Vladimir Putin," Erixon said. "His fight against the Kremlin from inside prison and before is something that all those fighting Putin can look to as an example."
No Recognition
At a March 4 news conference, Putin said extremists orchestrated a coup to dislodge Yanukovych and that Russia did not recognize Ukraine's new government.
Khodorkovsky addressed the crowd on Ukraine's Independence Square, called Maidan, yesterday. He said Russian "propaganda" was lying about the influence of fascists in Kiev and said Ukraine's authorities under Yanukovych had Moscow's consent before snipers shot protesters last month. Ukraine's Health Ministry says 100 people have been killed since protests began in November.
Crimea, where ethnic Russians comprise the majority, has become the focal point of Ukraine's political crisis after Yanukovych fled to Russia. Ukraine says its neighbor has sent almost 19,000 soldiers into the region before the referendum.
"He can become an emotional leader for Russians during this crisis between us and them," Olga Dorosh, a French teacher at Kiev Polytechnic, said of Khodorkovsky outside the auditorium. "Of course he has no real power, but hopefully he can inspire some Russians to stand up against Putin's nonsense."
Yukos Sold
Khodorkovsky was arrested in 2003 and Yukos was subsequently dismantled and auctioned off to pay billions of dollars in back taxes. Most of its assets were eventually transferred to state-controlled OAO Rosneft, which now produces about 40 percent of Russian oil.
Khodorkovsky and his supporters have proclaimed his innocence and his imprisonment was seen as a milestone in the Russian state wrestling back control of the oil industry, which underpins Putin's power.
Along with the growth of Rosneft, the government expanded its role in the economy. State-owned companies have reached more than half of Russia's economic output, compared with 42 percent in 2008, according to BNP Paribas SA's Moscow unit.
Following his release from prison, Khodorkovsky said he is not interested in politics and will devote himself to helping Russia develop civil society. Khodorkovsky plans to apply for permanent residency in Switzerland, Agence France-Presse reported today.
"Prior to being locked up, I was obsessed with business," Khodorkovsky said. "But there's something more important. And that something is what I myself am searching for. And i think that something was found by the people who went out onto Maidan, and by the people who stood under the bullets."
Bloomberg/Business Week
Photo: Former oligarch Mikhail Khodorkovsky addresses Ukrainians during an anti-war rally at Independence Square in Kiev, March 9, 2014. Khodorkovsky, addressing thousands of people at the cradle of the uprising against Ukraine's Moscow-backed leader, accused Russia on Sunday of being complicit in police violence against protesters. (Tatyana Makeyeva/Reuters)