Egypt's El-Sisi in Russia for arms talks
Egyptian army chief and defense minister Abdel-Fattah El-Sisi is on an official visit to Russia, army spokesperson Ahmed Ali has stated.
El-Sisi is accompanied by Foreign Minister Nabil Fahmy in a visit that is a "response to the historic visit of their Russian counterparts to Egypt last November."
They will discuss cooperation between the two countries with Russian ministers, Ali said on his official Facebook page.
Military sources, speaking on condition of anonymity, told Al-Ahram Arabic news website on Wednesday that El-Sisi was visiting Moscow to finalize a deal on the purchase of weapons.
Egypt sees Russia as a new potential ally after the US suspended part of its annual military aid to Egypt.
In November, talks between El-Sisi and Russian Defense Minister Sergei Shoygu resulted in a weapons deal.
AFP reported at the time that Moscow had signed a deal to provide Egypt with air defense missile systems.
The US Congress recently passed a new bill restoring more than $1.5 billion in military and economic aid to Egypt, which had been largely cut off amid concerns over the country's democratic transition and mounting violence following the ouster of Islamist leader Mohamed Morsi.
The change of heart towards Egypt comes after a constitution referendum that some say has set Egypt closer to a democratic path.
Gulf financing
Sisi's scheduled meeting with Russia President Vladimir Putin on Thursday would boost an image of international clout for the army chief.
The high-profile visit comes amid reports of a $2 billion Gulf-funded arms deal in the making with Russia. Funded mainly by Saudi Arabia and the United Arab Emirates, it underscores how oil-rich Gulf states have thrown their weight behind Egypt's military-backed government.
Long opponents of the Muslim Brotherhood, Saudi Arabia and the UAE strongly backed the military's July ouster of President Mohammed Morsi and, along with Kuwait, have pledged more than $12 billion in grants and loans to the interim government installed by the military.
Mustafa al-Ani, head of the UAE-based think-tank Security and Defence Studies at the Gulf Research Center, said Egypt's turn to Russia was an attempt to counter what he called a U.S. policy of "giving up on Egypt."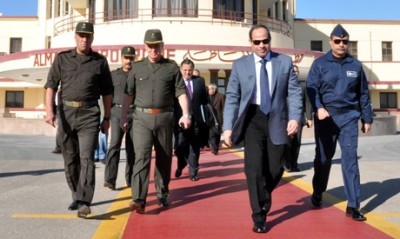 Egypt's pro-military media have been fueling public anger against the U.S., depicting Washington as a supporter of Morsi and his Muslim Brotherhood and even accusing the Americans of conspiring with the Islamists against Egyptian national security.
Earlier this week, Egypt's chief of staff, Gen. Sedki Sobhi, said during a visit to the UAE that Egypt is "open in its military relations with all superpowers" and wants to diversify its arms sources "from different military schools, Eastern and Western.
El-Sisi's visit to Russia was not announced in advance and he surprised many with his new look — a blue blazer, dark trousers and a tie — as he hurried to board a military jet at the Almaza military airport east of Cairo.
Ahram on Line/Ottawa Citizen