Geagea rejects the proposed cabinet as "non government"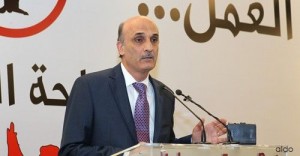 Lebanese Forces leader Samir Geagea warned on Monday against joining the proposed 24-minister cabinet that calls for the rival March 8 and 14 alliances to join together in a government, calling it a non government that will drag the country in opposite directions.
"What we need is an active cabinet that can pull Lebanon out of this dangerous abyss by a single horse in the right direction ," said Geagea at a rally titled "Era of Justice" that was held in Maarab on the occasion of the imminent start of the trial of the killers of former PM Rafik Hariri by the Special Tribunal for Lebanon.
Geagea called on President Michel Suleiman and Premier-designate Tammam Salam to form a neutral cabinet as soon as possible, saying "do not be late and do not give up your constitutional powers and act according to your beliefs."
"We all want a government as soon as possible, but not any government is a true government, a government of contradictions will never amount to anything and will not accomplish anything," he stressed.
Fake unity
Geagea also slammed Hezbollah's insistence that it supports national unity, questioning the Shiite party's past policy choices.
"Where was national partnership when Lebanon was dragged into war with Israel in the summer of 2006? Where was national partnership on May 7, 2008 when Hezbollah backed fighters took over West Beirut ? Where was national partnership when the 'national partnership government' headed by former Premier Saad Hariri was toppled by Hezbollah in January 2011?" he asked.
"National partnership to March 8 is only a fake ornament used when needed to cheat the people and it is not an actual concept to which they are committed."
Good vs evil
In an indirect reference to Maronite Patriarch Beshara al-Rai, who has said that the rival political camps "are causing all the bombings," Geagea said "someone who is suffering from despair and a blurred vision has put the blame equally on both parties."
"If both the victim and the criminal are responsible for the crime, then this is the the end of the world with all due honesty," said Geagea.
"Choosing between the state and the fictional state, the criminal and the victim, stability and instability, justice and tyranny, freedom and oppression, and enlightenment and darkness is exactly like choosing between good and evil. There is no place here for neutrality," he added.
"The carriage of the state is being dragged by two horses. The March 14 horse is dragging it up toward a real state of security, stability, and justice… and the March 8 horse is dragging it towards endless wars, security instability, and corruption." He said
Chatah's assassination
Commenting on the assassination of former minister Mohammed Chatah he said :
"they killed Chatah because he represented a moderate, open-minded approach that exposed the major chasm between him and them."
"They killed you because they did not want the Lebanon that resembles you in moderation, tolerance and enlightenment, but rather the image of (fugitive Fatah al-Islam chief) Shaker al-Absi, which would justify their existence," added Geagea.
"They killed you because they belong to the abominable dark ages," he said.
The LF leader called for adding all the assassination cases to the case of former PM Hariri , which is being probed by the STL, "given the fact that they are all connected."
"The era of justice and truth for Lebanon has come. It is the first time that we sense the presence of a serious will to achieve justice," he said, referring to the start of the STL trial on January 16.
"It would have not been possible to achieve a sense of justice in Lebanon had it not been for the heroic steadfastness of the Lebanese in the face of the killing machine," he stressed.
"The era of justice has come so that life can return to normal. Our objective is not punishment, but rather to protect Lebanon from the hands of criminals and to establish a real state," Geagea clarified.
He emphasized that "the triumph of justice would be a triumph for all the Lebanese," pointing out that "those saying justice would undermine coexistence want neither justice nor coexistence."
Phalange party
Similarly, the Phalange Party announced earlier on Monday its refusal to participate in a cabinet that would provide political cover for Hezbollah's arms and its military campaign in Syria in support of Bashar al-Assad 's regime.
"If the cabinet will cover up for the fighting in Syria and if it protects illegal arms ( in reference to Hezbollah ) then it is impossible for us to take part in it," Phalange party bloc MP Sami Gemayel stressed on Monday following the party's weekly meeting.
Background
Intensified efforts to form a cabinet are continuing as March 14 leaders said that the alliance was still debating the recently proposed 24-minister cabinet based on 8-8-8 formula championed by Speaker Nabih Berri and Progressive Socialist Party leader MP Walid Jumblatt that would give eight ministers each to the March 8 and 14 alliances as well as centrists.
The March 14 alliance had allegedly agreed to the 8-8-8 formula, but it is awaiting answers to inquiries it raised about its ministerial statement, the rotation of power, Hezbollah's fighting in Syria, and a number of other issues.
Amid Lebanon's nine-month deadlock over the formation of a cabinet, President Michel Suleiman threatened on Friday that he would form a cabinet on January 20 if the feuding political parties were unable to reach an agreement on a unity cabinet.
March 14 leaders vowed in the past not to join any government with Hezbollah as long as the party's fighters were engaged in battles alongside the forces loyal to Bashar al-Assad regime in against the rebels who are trying to topple the 40 year old dictatorship.