Mohamad Chatah's open letter to the Iranian President
Former Lebanese finance minister and senior diplomat Mohamad Chatah wrote an open letter last week to Iranian President Hassan Rouhani in which he urged him to end Hezbollah's role in Syrian civil war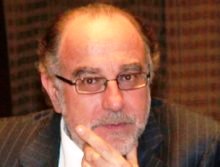 Editor's note: Mohamad Chatah, a former Lebanese finance minister and a senior diplomat , wrote the following open letter last week to Iranian President Hassan Rouhani. Chatah was killed by a car bomb in Beirut Friday before he could gather signatures from members of the Lebanese parliament.

Your Excellency,
We are taking this exceptional step to address you and other regional and global leaders because these are exceptionally dangerous times for our country. Not only is Lebanon's internal and external security being seriously threatened, but the very unity of our state is in real jeopardy. It is our obligation to do all we can to protect our nation from these l threats. And today, more than ever before, the choices made by the Islamic Republic of Iran will play an important role in determining our success or failure. That's why we are writing to you, as the President of the Islamic Republic of Iran.
But these are exceptional times for Iran as well. After many years of confrontation between Iran and a major part of the international community, your election as president last summer has signaled to many in the region and the world that the Iranian people want to set their country on a new path; a path of reform and openness and peaceful relations with the rest of the world. The recent interim agreement between Iran and the P5+1, and the statements you have made since your election, have raised expectations that Iran may indeed be taking the first concrete steps along that positive path. We sincerely hope that this is the case.
But for us, as representatives of the Lebanese people, the real test is not so much whether Iran reaches a final agreement with Western powers on its nuclear program, nor whether domestic economic and social reforms are successfully put in place—important as these objectives are to the world and to the Iranian people. For us in Lebanon, the real test is whether Iran is genuinely prepared to chart a new course in its policies toward the rest of region, and most specifically toward Lebanon.
Your Excellency,
It is an undisputed fact that Iran's Revolutionary Guard continues to maintain a strategic military relationship with Hezbollah, a military organization that Iran's Revolutionary guard was instrumental in establishing 30 years ago. At that time Lebanon was still in the midst of a terrible civil war and southern Lebanon was under Israeli occupation. Today, 23 years after the end of the civil war and the disbanding of all other Lebanese militias, and 13 years after the liberation of the south from Israeli occupation (in which the Lebanese resistance played a crucial role), Hezbollah continues to maintain an independent and heavily armed military force outside the authority of the state. This is happening with the direct support and sponsorship of your country.
As we are sure you would agree, the presence of any armed militia in parallel to the legitimate armed forces of the state and operating outside the state's control and political authority is not only in conflict with the Lebanese constitution, but also with the very definition of a sovereign state—any state. This is the case irrespective of the religious affiliations of such non-state militias or the causes they claim to champion.
Hezbollah's insistence on maintaining an independent military organization, under the banner of "Islamic Resistance," has been a major obstacle in the face of much-needed national efforts to strengthen state institutions and to put an end to the legacy of the civil war and the spread weapons throughout the country. This has, inevitably, also weakened Lebanon's national unity and exposed the country to the widening sectarian fault lines in the region, and has contributed to the rise of religious extremism and militancy.
Moreover, the use of—or implied threat of using—Hezbollah's weapons advantage to tilt the domestic political playing field has made the delicate task of managing the Lebanese political system almost impossible, and has led to a gradual systemic paralysis. Hezbollah's blatant protection of five of its members who had been indicted by the Special international Tribunal for Lebanon in the case of the late Rafiq Hariri assassination has compounded the suspicions and mistrust.
Your Excellency,
Over the past year, Hezbollah's direct participation in the conflict in Syria has greatly aggravated Lebanon's already precarious situation. It is well recognized that the Lebanese public is divided regarding the war in Syria. We, as members of the broad March 14 political alliance, stand fully, both politically and morally, in support of the Syrian people. We believe the Assad regime has lost both its moral legitimacy and its ability to restore peace and unity in Syria. However as representatives of the Lebanese people, our focus and main responsibility is to protect Lebanon from the grave danger of the fire raging next door spreading into our country. In fact, the conflict in Syria has already touched many of our border towns and villages and sparked sporadic violence and despicable acts of terrorism. As you know, the Iranian embassy in Beirut has been the target of a deplorable terrorist bombing, so were mosques and civilian neighborhoods.
Combating this scourge and protecting Lebanon from worse spillovers cannot succeed while a major Lebanese party is participating directly in the Syrian conflict. It is, in effect, an invitation to those on the receiving end of Hezbollah's bombs and bullets in Syria to bring the war back to Hezbollah's homeland—our common homeland. Regrettably, this is happening with the support of, and in coordination with, the Islamic Republic of Iran.
Your Excellency,
Lebanon today is in crisis on all levels. Clearly, palliatives are not enough anymore. We need to protect Lebanon from falling further down a very slippery slope. We believe that this can be done only if regional and international powers, including Iran, are ready to take the necessary steps. The guideposts are already there. They were spelt out in the national declaration issued jointly by all political parties last year and dubbed the Baabda Declaration. The declaration had affirmed the objective of safeguarding Lebanon's security by: 1.) protecting it against spillovers from Syria and more generally neutralizing it away from regional and international conflicts and alliances; and 2.) completing the implementation of Security Council Resolution 1701.
In our view, this would require the following concrete steps, to be agreed and launched through a special Security Council meeting or a special, wider support-group conference:
1. A declared commitment by all other countries, including Iran, to the neutralization of Lebanon as agreed in the Baabda Declaration. Clearly, it is not enough for Lebanon to declare a desire to be neutralized. More importantly, other countries need to commit themselves to respect Lebanon's national desire;
2. Ending all armed participation by Lebanese groups and parties, including Hezbollah, in the Syrian conflict;
3. Establishing effective control by the Lebanese army and security forces over the border with Syria, supported by the United Nations if needed as permitted under UNSCR 1701;
4. Requesting the Security Council to begin the steps needed to complete the implementation of UNSCR 1701. This aims at moving Lebanon from the current interim cessation-of-hostilities status with Israel to a permanent cease-fire with U.N. security arrangements, which will end border infringements by Israel and establish complete and exclusive security authority by the Lebanese armed forces throughout the country.
This vision and roadmap may seem radical, considering that Lebanon has not seen full and exclusive control by the state over its territory and over all weapons in four decades. But these are also the basic natural rights of any country that seeks to be free and independent. It is our obligation as representatives of the people of Lebanon to do all we can to regain those rights. For years, we have supported—and will continue to support—the right of Palestine to be free and independent. Similarly, we support Iran's national right as a free and sovereign nation in control of its destiny and its security within its borders. As a small but proud nation we cannot aspire for less.
Your Excellency,
This is Lebanon's cause. We will do all we can to mobilize all the support it needs and deserves. Ultimately, whether we succeed or not will depend on decisions taken, not only by the Lebanese people but also by others, including your good self. Admittedly—but also understandably—there are many Iran-skeptics in Lebanon and in the region. We hope that Iran's choices in Lebanon can prove them wrong.
Sincerely,
Mohamad Chatah
WSJ