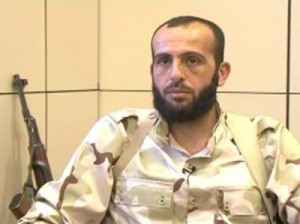 The leader of one of the most prominent rebel factions fighting to oust Syrian President Bashar al-Assad has died of wounds sustained in a government airstrike last week, rebels and activists said on Monday.
The death of Abdul Qader Saleh is a blow to rebels as they attempt to repel the advance of government troops around the northern city of Aleppo, where the Tawhid Brigade, which Saleh commanded, is concentrated.
The brigade announced on Thursday that Saleh was wounded during an airstrike as the group's leaders met at a military base. But the announcement apparently played down the seriousness of Saleh's injuries.
In a video from his hospital bed, the group's political leader, Abdulaziz Salame, who was also injured in the strike, described Saleh — whose age has been given as 33 or 34 — as "alive and well."
However, rebels and activists confirmed that Saleh later died, and was buried on Sunday night in his hometown of Marea, in Aleppo province. Attendance at the burial was limited, due to security concerns that the ceremony would be targeted.
Saleh "was an icon of the revolution, a role model that is rarely seen," said Col. Abdul Jabbar Akaidi, the former head of the Aleppo Military Council. He described the slain leader as "a friend and dear brother".
Also known by the nom d'guerre Haji Marea, after his hometown, Saleh, a former seed trader, was one of the most popular and respected figures to emerge from Syria's long-running and bloody uprising.
He was one of the founders of Tawhid, which brought together a myriad of armed groups from the Aleppo countryside in July 2012, and now boasts more than 10,000 men. Though part of the Western-backed Syrian Military Council, the group, which has Islamist leanings, acts with a degree of autonomy, and stirred controversy in September by announcing an alliance with the al-Qaeda linked Nusra Front.
"At a time when the Syrian regime is advancing on Aleppo, Saleh's death therefore is very bad news for the opposition," wrote Aron Lund, an independent Middle East analyst based in Sweden. "Even if the front holds, Tawhid could be drained of cohesion, and end up losing sub-units and fighters to other groups."
Akaidi, however, disagreed. He predicted that Saleh's death "will be a catalyst and a very strong reason to respond to the regime in a very strong way."
Washington Post
This error message is only visible to WordPress admins
Error: No connected account.
Please go to the Instagram Feed settings page to connect an account.