FSA says it killed today 50 Hezbollah, Iraqi Shiite fighters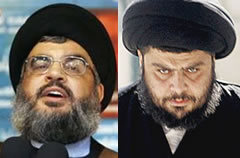 The Free Syrian Army (FSA) claimed that it killed 50 Hezbollah and Abd el Fadl al Abbas brigade fighters early wednesday morning in Damascus , sana-revo website reported.
Abu al Fadl al Abbas brigade was reportedly formed by the Iraqi Shiite cleric Muqtada al Sadr, and it is named after Abou El Fadl Abbas ibn Ali ibn Abi Talib .
Most of the fighters are reportedly Iraq Shiite citizens.
Hezbollah on the other hand is a Lebanese based militant group that was formed in 1982 by the Quds branch of the Iranian Revolutionary Guards .
Hezbollah fighters have been helping the the Syrian regime of President Bashar al-Assad in its crackdown against the mostly Sunni rebels seeking to overthrow the regime.
Hundreds of Hezbollah fighters have reportedly been killed in Syria and buried in Lebanon. Over 115,000 have been killed so far in the Syrian civil war according to activists.
Photo: Hezbollah chief Sayyed Hassan Nasrallah ( L)  and Iraqi cleric Muqtada al Sadr.