Putin nominated for Nobel Peace Prize !!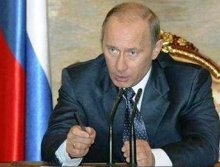 A Russian advocacy group nominated President Vladimir Putin for the Nobel Peace Prize for his bid to dismantle Syria's chemical arms stockpile, the group said.
Members of the group, called the International Academy of Spiritual Unity and Cooperation of Peoples of the World, told reporters in Moscow Putin was far more deserving of the prize than U.S. President Barack Obama, who received it in 2009.
Obama continues to lead U.S. military operations, said the members, who include some Putin supporters in the Russian Parliament.
"Barack Obama is the man who has initiated and approved the United States' aggressive actions in Iraq and Afghanistan. Now he is preparing for an invasion into Syria. He bears this title nevertheless," Iosif Kobzon, a popular singer known as "Russia's Frank Sinatra" and a member of the State Duma, said at the news conference.
"Our president, who tries to stop the bloodshed and who tries to help the conflict situation with political dialogue, is, in my view, more worthy of this high title," the non-government Interfax news agency quoted Kobzon as saying.
He and others at the news conference said Putin had steadfastly opposed military intervention throughout the 2 1/2-year-old civil war.
Critics point out Putin still sells weapons to the regime of ally Syrian President Bashar Assad.
They also argue the Kremlin, under Putin's direction, has repeatedly used its U.N. Security Council veto to block international action that could have stemmed the Syrian violence and prevented the deaths of more than 100,000 civilians.
Putin has insisted the Syrian rebels are equally responsible for the violence. He has also said Syria's sovereignty must be respected.
The group said it proposed Putin as a candidate for the prize Sept. 16, two days after Moscow and Washington reached an agreement in Geneva, Switzerland, on a plan for Syria's surrender of its chemical weapons.
The Nobel Committee received the nominating letter Sept. 20, group head Georgy Trapeznikov said.
This made it too late for this year's award, whose nominations had to be postmarked by Feb. 1. This year's award is to be announced Oct. 11 in Oslo, Norway.
The Nobel Committee has a policy of not commenting on nominees or the people who nominated them and had no comment on the group's submission.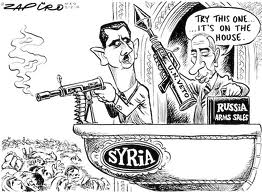 The group said it didn't consult with Putin before submitting his name. Kobzon, described by state news agency RIA Novosti as a fervent Putin loyalist, said he imagined Putin wouldn't comment on his nomination "because of his humility," the news agency said.
Presidential spokesman Dmitry Peskov later told the government's ITAR-Tass news agency Putin had not discussed any Nobel nominations with any individuals or groups.
"The main criterion for the president is his satisfaction from the results of his work," Peskov said.
Peskov recently told government newspaper Izvestia no "triumphant statements" should be made about Syria until the disarmament plan produces tangible results.
Putin is the second Russian resident nominated for the Nobel award this year.
Denmark's socialist Red-Green Alliance nominated U.S. intelligence leaker Edward Snowden, who received temporary Russian asylum, for the prize Aug. 14.
UPI