US expels 3 Venezuelan diplomats in tit-for-tat row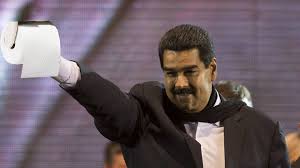 The United States has expelled three Venezuelan diplomats in a tit-for-tat response to the sending home of three of its envoys.
Washington is angry over accusations from the South American country accusing US diplomats of espionage.

US State Department spokesperson, Jen Psaki said:
"We completely reject the Venezuelan government's allegations of US government involvement in any type of conspiracy to destabilise the Venezuelan government. We reject the specific claims against three members of our embassy."
Washington said the three Americans had been merely doing their job as political researchers.
However Venezuela's president accused them of meeting opposition members and of encouraging acts of sabotage.
"They were detected during an ongoing investigation of nearly six months. We detected their participation in events that violate international law," said President Nicolas Maduro
The expulsions set back cautious efforts to restore full diplomatic ties that were frayed during the 14-year rule of the late president Hugo Chavez.
To cover up failures
The expulsion of three American diplomats from Venezuela with the words "Yankees go home" is a "smoke screen" to cover up the government's inability to manage a country that is descending into economic chaos despite its huge oil wealth, critics said Tuesday.
With more than 45% annual inflation, shortages of basic items such as toilet paper and newsprint as well as ever more frequent power outages, many are growing tired of Venezuela's inefficiencies.
President Nicolas Maduro's "erratic behavior is just a pantomime to divert attention from the chaos Venezuela is in," said Samuel Akerman, 28, an engineer.
Opposition leader Henrique Capriles Radonski described the move on Twitter as a "smoke screen" to distract Venezuelans from Maduro's failure to right an economy plagued by poor production and a corrupt state-run petroleum industry.
Maduro kicked Washington's top diplomat and two other U.S. Embassy staffers out of the socialist country Monday, accusing them of conspiring with the opposition and helping to finance the sabotaging of the country's economy.
The move was announced on state television by Maduro, who echoed the language of his predecessor, Hugo Chávez. "Get out of Venezuela," he shouted.
The two countries have not had ambassadorial-level links since 2010, making Kelly Keiderling, the acting chargé d'affaires and one of the three Americans expelled, the senior most U.S. diplomat in the country.
The last expulsion of U.S. diplomats took place in March, on the day that Maduro later announced Chávez's death. Since then, various accusations have been made against U.S. citizens and officials, hit by various charges of spying and plotting to kill Maduro.
The behavior has followed a pattern in recent weeks. Maduro skipped the U.N. General Assembly last week citing "provocations that could threaten (his) life" and saying that he had evidence that at least two former U.S. officials, under President George W. Bush, were masterminding the plots against him. No evidence was produced.
On his way to China in recent weeks, a row erupted in which Maduro accused the U.S. of denying permission to fly through the American airspace of Puerto Rico. The U.S. said that no proper request had been made, yet permission was swiftly granted.
"Denying a head of state permission to fly through airspace that they (the U.S.) colonized is a grave error," said Maduro on state television.
It was not clear why Maduro's plane needed to fly over Puerto Rico in the first place. Industry experts said the flight path to the stopover in Paris was much farther south.
It is not only the United States that Maduro believes is out to get him.
France's Airbus is accused of sabotaging Maduro's presidential plane after five months of maintenance. A "serious fault" was found in one wing, according to the president. Airbus has said that it will aid a Venezuelan investigation.
While the allegations are failing to make waves abroad, critics say they play well to Maduro's home crowd — one that is disappointed with the country's economy and a lack of strong leadership, which it had in Chávez.
Euro News/ USA Today
Photo:
Venezuela's president  Nicolas Maduro  shows off a roll of toilet paper