Russia will not fight with anyone over Syria, says Lavrov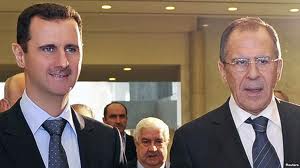 Russia will not use its military if Western forces move into Syria, said Russian Foreign Minister Sergei Lavrov in an emergency press conference that was called due to the sudden escalation in the situation around the country.
Moscow is extremely concerned with the aggressive statements coming from the West, and Russian experts warn that military intervention in Syria will lead to a break-up of the country.
"We do not intend to fight with anyone. We continue to expect that our Western partners will apply their policies strategically and not reactively," said Russian Foreign Minister Sergei Lavrov. However, he made it clear that invading Syria would be a flagrant violation of international law, similar to operations in Yugoslavia, Iraq and Libya.
According to the minister, the hype surrounding the use of chemical weapons near Damascus could be beneficial to those who want to provoke strikes on Syria from the outside.
"There were absolutely no political or military reasons for the Syrian government to resort to using chemical weapons, when experts [from the U.N.] were working there [in Syria], when, in general, the military situation favored the government, and when American-Russian meetings were to be held shortly in preparation for the Geneva conference," said Lavrov.
However, it was beneficial for opponents of Syrian President Bashar al-Assad, who want to trigger attacks from abroad in order to organize such provocations, added the head of the Russian Foreign Ministry.
He also criticized the position of Western countries, which flatly declare that the government army was involved in a chemical attack in a Damascus suburb. Lavrov noted by way of reminder that evidence is needed.
Lavrov also warned that a change of power in Syria will not bring an end to the civil war: "If someone thinks that bombing the Syrian military infrastructure, and then leaving the battlefield so that opponents of the regime can claim victory, will bring an end to all this, they are fooling themselves. Even if such a victory could be won, the civil war will continue. Only those who fought for the government side will become the opposition."
Earlier, in a telephone conversation with U.S. Secretary of State John Kerry, Lavrov expressed "deep concern" regarding statements on the readiness of U.S. armed forces to "intervene" in the Syrian conflict. Moscow believes that new military intervention would further destabilize the Middle East.
In the meantime, experts warn that Syria will be destroyed as a nation if there is foreign intervention in the Syrian conflict. "The after effects, it seems to me, would be catastrophic for the Arab and Muslim world: There will be a completely destroyed country, and, in this case, the West would not look like a champion of freedom and justice," said Vitaly Naumkin, director of the Institute of Oriental Studies of the Russian Academy of Sciences.
"The use of military force without the sanction of the U.N. Security Council is contrary to international law. If our Western partners take such an action, it will damage our relations with NATO countries, since we consider such an action to be illegal; and we will, as can be expected, demand the question be placed before the U.N. Security Council," said Naumkin.
According to the expert, intervention could lead to the destruction of Assad's regime. "The forces that are amassing around Syria are far superior to those of Syria, and, what's more, there is a so-called free Syrian army on the ground already that can take the offensive," Naumkin said.
Russian Council on Foreign Affairs specialist Mikhail Troitsky also believes that, if Western forces attack, "Government troops will be immediately destroyed, and President Assad — along with his closest aides — will most likely be forced to go into hiding in Alawite parts of the country."
"All of this is reminiscent of the Iraqi situation. Just like they looked for but did not find weapons of mass destruction in Iraq, so, it seems, it will be here. The pretext for intervention is clear. But it really does seem like a provocation," said Victor Sergeev, professor of comparative political science at Moscow State Institute of International Relations (MGIMO).
Just a few days ago, Barak Obama expressed his opposition to military intervention in Syria without a U.N. mandate. In the MGIMO scholar's opinion, this signals that Obama has not yet defined his position on Syria.
Troitsky believes that, in order for military intervention in Syria to go forward, President Obama first needs to know the results of the U.N. investigation. The second condition is that there must be a plan for what to do after Assad is deposed.
"The United States is unlikely to act without a clear idea of who will replace Assad, as well as understanding if the people who will head Syria will be dangerous," the specialist said.
The situation is complicated by the possibility that Iran could interfere in the conflict. "There was a statement by one of the military leaders of Iran that the U.S. will regret if it intervenes in Syria. This means that Iran is ready to support the Syrian leadership. And this smells like an all-out Middle Eastern war. This is not the same as an isolated Libya. The U.S. is not ready for this," said Sergeev in conclusion.
This article uses materials from RIA Novosti, the Ministry of Foreign Affairs of the Russian Federation and Kommersant.
Originally published in Russia beyond the headlines, a branch of Russian state-owned newspaper Rossiyskaya Gazeta