Jarba elected new leader of Syrian National Coalition, update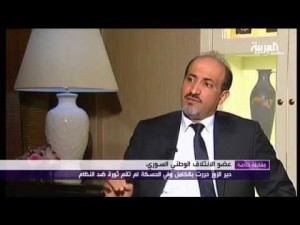 Ahmad Assi Jarba has been elected as the new president of the Syrian National Coalition.
Jarba is a tribal leader ( The Shamar tribe) and is a member of the Michel Kilo group .
He was reportedly the Saudi Arabian candidate for the position.
The representative of the Muslim Brotherhood Farouk Tayfur was reportedly elected as one of two vice presidents while Suheir Atassi , a well known activist was elected as the other VP, a position she was able to retain.
Anas al Abd, the head of the Movement of Justice and Development, was elected as Secretary General replacing Mustafa Sabbagh, the Qatar backed presidential candidate, who lost to Jarba.
According to witnesses, this meeting , like the last meeting that was held by the coalition in May in Istanbul clearly revealed that the power struggle between Saudi Arabia and Qatar( both are sponsors of the Syrian opposition) prevented the election of a consensus president.
Jarba,  from Syria's eastern Hasaka province,  is considered close to Saudi Arabia, while Sabbagh, a businessman is considered close to Qatar .
The May meeting was postponed for the failure to reach an agreement on a consensus candidate .
This is a developing story … more to follow