Turkish PM: Israel's strikes help Assad cover massacres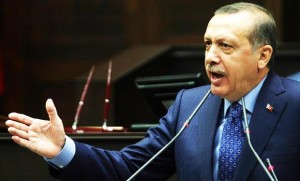 Turkish Prime Minister Recep Tayyip Erdogan on Tuesday said Israel's air raids in Syria are not only "unacceptable" but also helped the Assad regime cover up massacres of opponents.
"No excuse can justify this operation," Erdogan told ruling party lawmakers after Israel's weekend strikes on military sites in the war-torn country sent regional tensions soaring. But he also called on the international community to act over killings by regime forces.
Saudi Arabia earlier slammed the Israeli strikes and urged the UN Security Council to take immediate action to stop them.
"The Council of Ministers denounced these flagrant attacks and considered them a serious violation of the sovereignty of an Arab state and warned of their serious consequences on security and stability in the region," Minister of Culture and Information Abdul Aziz Khoja said a statement after the weekly meeting of the Cabinet chaired by Crown Prince Salman, deputy premier and minister of defense, in Jeddah yesterday.
Erdogan said the raids — reportedly targeting Iranian weapons bound for Lebanon's Hezbollah group — were a "golden opportunity" for his one-time ally President Bashar Assad to cover up atrocities by his regime.
"Assad is trying to cover up what happened at Banias by using the Israeli raids as a pretext," said the Turkish premier, referring to a crackdown by Assad's troops and militiamen in the Mediterranean city.
The Syrian Observatory for Human Rights said at the weekend that the bodies of at least 62 murdered residents had been found in a Sunni neighborhood of the city, after at least 50 civilians were killed in a nearby village.
Erdogan said he was appalled by the photographs of children murdered by the regime and blasted the international community for its failure to act.
"I wonder how long you will turn a blind eye to this massacre," he said. "Damn your international policies!"
He called on the UN Security Council to "urgently convene" over the Banias killings, which have sent residents fleeing.
On Sunday, Erdogan called the Syrian president a "butcher," in his harshest attack in recent months.
Ankara cut contact with Damascus after its calls for a peaceful resolution of the conflict, which is now in its third year and has killed more than 70,000 people, went unheeded.
Turkey has sided with the rebels fighting to topple Assad's regime, taken in around 400,000 refugees as well as army defectors and repeatedly called on the international community to act on the unfolding crisis.
'Green light' for Palestinian response

A spokesman for a Palestinian militant group in Syria, meanwhile, said it has received a nod from the Assad regime to attack Israel in retaliation.
Anwar Raja of the Damascus-based Popular Front for the Liberation of Palestine-General Command said the regime has given "a green light" for the group "to attack Israeli targets" from the Syrian-controlled part of Golan Heights.
Raja did not elaborate on how the alleged approval was conveyed to PFLP-GC fighters but he stressed that there was no official government note. The Palestinian official spoke to The Associated Press on Tuesday.
Most Palestinians in Syria remained on the sidelines of the 2-year-old conflict, but PFLP-GC has fought alongside government troops against the rebels trying to topple Assad.
In Jordan, Iran's foreign minister said it is Syria's Arab neighbors — not Tehran — who should respond to Israel's recent airstrikes near Damascus.
Ali Akbar Salehi says Arab nations "must stand by their brethren in Damascus." He also warned of "serious repercussions from a political vacuum" should President Assad's regime collapse.
Salehi spoke to reporters during a visit to the Jordanian capital, Amman, on Tuesday.
He said he believes Israel "would not dare strike" at suspected Iranian nuclear sites but that his country is "prepared for the worst."
Arab News