Al Manar: Israel targeted arms depot in Syria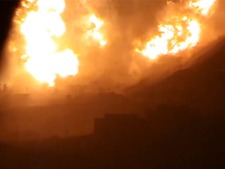 Hezbollah's Al-Manar TV reported that the Israeli raid at dawn Sunday May 5, 2013 did not target the Jamraya military research center as stated by the government owned Syrian Arab news Agency SANA , but (the raid) targeted an ammunition depot center that supplies the Syrian army.
According to Al Mannar its security sources confirmed that the Israeli warplanes targeted three Syrian military sites:
– military barracks
– ammunition depots
– air defense centers
If true, it would be the second Israeli airstrike in Syria in two days and the third this year.
According to an earlier report by the New York Times the strike was aimed at a shipment of advanced surface-to-surface missiles from Iran that was intended for Hezbollah in Lebanon.
Iran and Hezbollah have both backed President Bashar al-Assad in the Syrian civil war, now in its third year. But as fighting in Syria escalates, they also have a powerful interest in expediting the delivery of advanced weapons to Hezbollah in case Mr. Assad loses his grip on power and Syria ceases to be an effective channel for funneling weapons from Iran, according to the NY times report.