Israel Launched an attack on the Syrian-Lebanese Border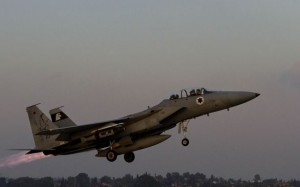 Israeli forces attacked a target on the Syrian-Lebanese border overnight, reports Reuters, possibly out of concern that the Syria civil war is spilling over onto its neighbors. "The sources, who declined to be named because of the sensitivity of the issue, had no further information about what might have been hit or where precisely the attack happened," reads the Reuters report. According to Al Monitor's Laura Rozen, the target was an alleged weapons convoy. Israel's Haaretz newspaper hasn't confirmed the attack, but they are reporting that the Lebanon says that Israeli Air Force jets breached Lebanese air space.
The attack comes one day after Israeli defense sources told Reuters's Dan Williams they were concerned that Syrian weapons, both chemical and conventional, might fall into hands of Hezbollah in Lebanon. Williams wrote:
"Israeli officials have also voiced concern about Syria's advanced Russian-supplied weapons, including anti-aircraft and anti-ship missiles. Israel fears that should such weapons fall into the hands of the Iranian-backed Hezbollah in neighboring Lebanon, this could dent the Jewish state's superiority in any future confrontation."
Just this past Sunday Prime Minister Benjamin Netanyahu voiced the same concerns—that there would be a risk of chemical weapons landing into Hezbollah's hands, hinting at the need for an Israeli intervention. A spokesperson for the Israeli Defense Forces would not comment on the attack.
The Atlantic wire
Update by Reuters
"There was definitely a hit in the border area," one security source said. A Western diplomat in the region who asked about the strike said "something has happened", without elaborating.
An activist in Syria who works with a network of opposition groups around the country said that she had heard of a strike in southern Syria from her colleagues but could not confirm it. A strike just inside Lebanon would appear a less diplomatically explosive option for Israel to avoid provoking Syrian ally Iran.
BORDER STRIKE
Whether the strike took place within Syrian territory, or over the border in Lebanon, could affect any escalation from the incident. Iran, Israel's arch-foe and one of Damascus's few allies, said on Saturday it would consider any attack on Syria as an attack on itself. During and since Israel's 2006 war with Hezbollah, there have been unconfirmed reports of Israeli strikes on convoys just after they entered Lebanon from Syria.
Israel has long made clear it claims a right to act preemptively against enemy capabilities. Alluding to this, air force chief Major-General Amir Eshel on Tuesday said his corps was involved in a covert and far-flung "campaign between wars".
"This campaign is 24/7, 365 days a year," Eshel told an international conference. "We are taking action to reduce the immediate threats, to create better conditions in which we will be able to win the wars, when they happen."
He did not elaborate on any operations, but did single out the threat Israel saw from Syria's arsenal, calling it "huge, part of it state-of-the-art, part of it unconventional".
Israel fought an inconclusive war in Lebanon with Iranian-backed Hezbollah in 2006. Its aircraft then faced little threat, though its navy was taken aback when a cruise missile hit a ship off the Lebanese coast. Israeli tanks suffered losses to rockets and commanders are concerned Hezbollah may get better weaponry.
Israeli jets regularly enter Lebanese airspace, but its forces have been more discreet about Syrian incursions.
Israel's bombing of a suspected Syrian nuclear reactor in 2007, though revealed by then U.S. President George W. Bush and Vice President Dick Cheney, is still not formally acknowledged by the Israelis.
According to Bush, then Israeli Prime Minister Ehud Olmert sought to keep the matter quiet so as to reduce the risk of Assad feeling public pressure to retaliate. Syria and Israel are technically at war but have not exchanged fire in a significant way in decades.
A U.N. force sits on the line, north of the Israeli-occupied Golan Heights, where a ceasefire ended their last war in 1973.
Israeli media reported this week that the country's national security adviser, Yaakov Amidror, was sent to Russia and its military intelligence chief Major-General Aviv Kochavi to the United States for consultations.
Shashank Joshi of the Royal United Services Institute (RUSI) in London said that there are indications that Hezbollah is training near chemical weapons sites in Syria, with which the Shi'ite Lebanese militia has historically had a strong alliance.
"We also know that (Syria's) use of tactical ballistic missiles has been escalating – presumably as air power becomes harder to use in contested areas, and rebels seize larger targets like bases that are amenable to missile attack," he said.
Worries about Syria and Hezbollah have sent Israelis lining up for government-issued gas masks. According to the Israel post office, which is handling distribution of the kits, demand roughly trebled this week.
"It looks like every kind of discourse on this or that security matter contributes to public vigilance," its deputy director Haim Azaki told Israel's Army Radio. "We have really seen a very significant jump in demand."