Syria complains to UN about tourism downturn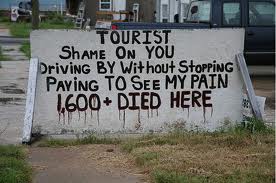 Syria has complained to the United Nations that its tourism industry has been severely damaged by a 14-month conflict between government forces and rebels fighting to overthrow President Bashar al-Assad, which has raised fears of civil war.
In a letter to the 193-member U.N. General Assembly made public on Thursday, Syria's U.N. ambassador, Bashar Ja'afari, said hotel occupancy had dropped from an average of 90 percent before the crisis began in March 2011 to less than 15 percent.
"In the cities and areas where there is tension, the impact of the crisis on the tourism sector has been totally disastrous: tourism activity has come to a complete halt and hotels have ceased to operate," Ja'afari wrote in the letter dated May 7.
"All restaurants, roadside rest-stops, fairgrounds and other leisure facilities have also had to close," he said.
The United Nations says 9,000 people have been killed during the revolt, while Damascus blames foreign-backed "terrorists" for killing 2,600 soldiers and police. An April 12 U.N.-backed truce has failed to stop the bloodshed.
Ja'afari blamed the tourism downturn on travel websites for warning tourists to stay away, countries for halting flights to Syria, and "certain armed terrorist groups which target transport and communication routes and transport companies, in addition to terrorizing, killing and abducting civilians."
"Some 40 per cent of all those employed in the tourism sector in Syria are estimated to have lost their jobs completely or to have had their hours reduced," Ja'afari wrote in the three-page letter.
There are 257 unarmed U.N. monitors in Syria to observe the unravelling five-week old truce brokered by U.N.-Arab League peace envoy Kofi Annan. The opposition Syrian Observatory for Human Rights has said more than 800 have been killed since then.
A U.N. monitoring team was caught up earlier this week in an attack in northern Idlib province in which at least 21 people were killed and observers were forced to spent a night with rebels who pledged they were protecting them.
Reuters