Move over Wilt – Lebanese player scores 113 points in basketball game
Wilt Chamberlain's got nothing on Mohammad El Akkari, who joined the very rare group of players to score more than 100 points in a game on Tuesday, when he reeled in 113 points in the Tripoli side's 173-141 win against Bejjeh in a Lebanese Division A League Final 8 game.
According to the record books, this is first instance of a player scoring more than 100 points in an official game played in any of the leagues in FIBA Asia National Federations.
The only two other instances of more than 100 points in a single game in Asia are when Lou Salvador scored 116 points for the Philippines against China in the 1923 Far Eastern Games and Jeron Teng scored 104 points for Xavier School against Grace Christian College in a High School game in the Philipines.
Akkari, a 27-year-old guard had a none-too-impressive season with Moutahed – his seventh successive season with the Tripoli club – averaging 7.6 points in the 23 games he had played till Tuesday.
But this night belonged to Akkari as he sent all the scoring records out of the roof with his stellar show.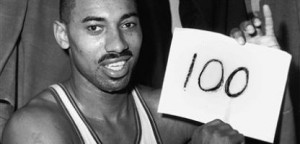 Akkari reeled in an incredible 32 three-pointers out of 59 attempts in an overall 40/69 field shooting and a solitary free-throw. Akkari, who has spent seven seasons with Moutahed, joins NBA legend Wilt Chamberlain, who scored 100 points for the Lakers against the Knicks in 1962. Chamberlain, though, made 28 free throws in that game, making Akkari's performance even more impressive.
"Thank god for this performance. I think it's all a result of my practice," Akkari said from the team bus on his way back to Tripoli.
"I also want to thank my coach for letting me play that long and all my teammates for helping," he added.
Coach Ahmad Fadel was high on praise on Akkari.
"He's a phenomenal but very underrated shooter. He puts in a lot of hard work in practice. I am not surprised," Fadel said.
Akkari's American teammate Austin Johnson too was all praise for him.
"He was awesome tonight. He starting out shooting the ball very well and just continued to go. Our team realized that he was on fire so we kept feeding him the ball. Congrats to Akkari on a record-setting night. He deserves it from the way he works and stays focused," Johnson said.
According to the Guinness Book of World Records the highest ever individual score is the 272 points when Swede Mats Wermelin, as a 13-year-old boy, scored all the points in a game in a regional school tournament in Stockholm.
FIBA Asia