Lebanon will have new cabinet shortly, report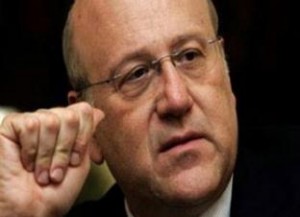 Sources close to PM designate Nagib Mikati told An Nahar newspaper that the government formation has reached an advanced state and will be announced within days and no later than the end of the week .
According to the report the government will have 30 ministers . …It will be a mix of politicians, technocrats and independents .. It appears that Mikati wanted a 24 member cabinet but this reportedly did not work out .
The report also said that the situation with FPM leader is much better after the issue of interior minister was resolved .
The Iranian- and Syrian-backed Hezbollah brought down PM Saad Hariri's government on January 12 over the Special Tribunal for Lebanon's (STL) imminent indictment which is widely expected to implicate Hezbollah members in the assassination of former PM Rafik Hariri in 2005
Prime Minister-designate Najib Mikati was appointed in January with the March 8 coalition's backing following the collapse of Saad Hariri's unity government. March 14 figures have repeatedly said that intimidation from Hezbollah's weapons helped secure the parliamentary majority for his nomination.
March 14 parties have announced that they will not take part in the cabinet Mikati is currently forming, and Hariri vowed last week to fight the use of non-state weapons "peacefully and democratically."