Lebanon army warns against messing with security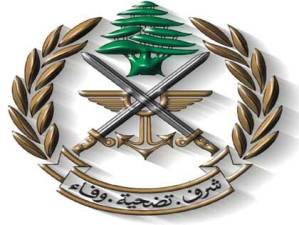 In a statement issued on Monday , following the eruption of protests across the country against the nomination by Hezbollah over the nomination of Mikati as the next premier , the Lebanese Armed Forces (LAF) issued a statement warning against "interfering with the security" of Lebanese citizens.
"The army command warns against messing with security and assaulting private and public property." The statement said
The statement also said that the LAF re-opened some of the roads that were closed by protestors.
The LAF called on the media and relevant authorities to "shoulder their responsibility required during this phase" in the country.
Protests broke out across Lebanon on Monday following the first day of the premiership consultations and after Hezbollah appears to have secured the support from a majority of parliament Monday to nominate its candidate former PM Najib Mikati for prime minister, putting the Iranian-backed militant group in position to control Lebanon's new government.
The Syrian leadership reportedly informed the envoys of Hezbollah and Amal of its decision to nominate Mikati Saturday night, according to local reports .
MTV reported last Saturday that Hussein Khalil, Hezbollah Secretary General Sayyed Hassan Nasrallah's political aide and MP Ali Hassan Khalil , Amal Movement leader Nabih Berri's political aide headed to Damascus , Syria secretly Saturday
Day of Rage
Sunni leaders have called for a "day of rage" throughout Lebanon Tuesday to protest gains by the Shiite militant group Hezbollah.
Khaled Daher a  March 14 MP said: "We call on those who reject the Persian scheme in this defiant Arab country to stage a sit-in tomorrow at 10:00 a.m. at the al-Nour Square in Tripoli."