Aoun : 90% of our problems begain in 1948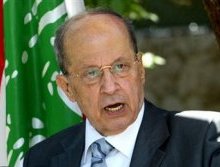 Free Patriotic Movement leader MP Michel Aoun said Sunday during a stop in Hrajel, Kesrouan : Most of our problems began in 1948 when the Palestinians arrived in the country."
"Ninety percent of our problems emerged since their arrival, " he said
"They have had a grudge against us because we did not grant the Palestinians their rights all along forgetting to resent those who displaced them in the first place ," the MP added in reference to Israel.
In a landmark vote, parliament approved last week a measure that gives Palestinian refugees living in Lebanon the right to work in the country.
Aoun said : Let the government propose a plan that supports Palestinians' right to return to their homeland and reject naturalization. It won't because they are conspirators. We oppose naturalization and believe the Arabs are allied with Israel.
Aoun has several ministers in the government which is headed by MP Saad Hariri
Aoun asked : "What are the Arab states' positions on the situation of Palestinians in Lebanon?"
Addressing the discovery of agents and spies collaborating with Israel, ( in reference FPM senior official who was formerly an army general and who was arrested over spying for Israel) , Aoun evaded the question and answered it this way : "Whether they like it or not, the army will continue on fortifying national unity."
"They have spoken of fallen generals forgetting that I had 11 brigades, with the commanders of two of them becoming presidents of the republic," he added in reference to presidents Lahoud and Suleiman
STL
Just like Wiam Wahab did earlier today Aoun attacked the Special Tribunal for Lebanon, by saying it is slowly becoming an "international game rather than an international tribunal."
The special tribunal for Lebanon (STL) which is an independent court was formed by the United Nations security council to try the killers of the former Lebanese PM.
"We are the first who want justice in Lebanon and find out who assassinated former Prime Minister Rafik Hariri and why," he stressed.
"He was not killed by Lebanese hands, even if the agent was Lebanese, but he was killed by those who want to sacrifice the whole of Lebanon," he added.
Just like Wahab, Aoun is closely associated with Hezbollah.
A July 20 report in the pro-Syrian newspaper, Al Safir revealed that Hezbollah members will be indicted by STL in the assassination of Hariri.