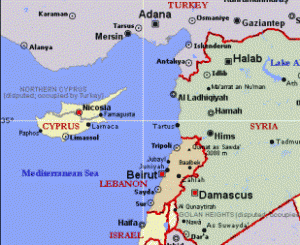 Israeli Minister of National Infrastructures Uzi Landau said his country is willing to use force to protect off- shore natural gas finds after the speaker of Lebanon's parliament said the fields extended into his nation's waters.
"We will not hesitate to use our force and strength to protect not only the rule of law but the international maritime law," Landau, 66, said in an interview yesterday at his Jerusalem office when asked about Lebanese claims. "Whatever we find, they will have something to say. That's because they're not challenging our findings and so-called occupation of the sea. Our very existence here is a matter of occupation for them. These areas are within the economic waters of Israel."
Israel, which is seeking to wean itself off oil and coal imports from as far away as Mexico and Norway, has said the Leviathan and Tamar fields may allow it to start exporting gas. The discoveries also have prompted talks with Cyprus to seek clarification on maritime boundaries. Israel and Lebanon are technically at war and have no diplomatic relations.
s.
Lebanon's Parliament Speaker Nabih Berri said that Israel is "ignoring the fact that according to the maps the deposit extends into Lebanese waters," Agence France-Presse reported on June 9.
Noble Energy Inc. and Israeli companies controlled by billionaire Isaac Tshuva, say the gas finds in the past 18 months may hold 24 trillion cubic feet of gas, more than twice the U.K.'s gas reserves. Leviathan lies about 130 kilometers (81 miles) off Israel and Tamar 90 kilometers, according to Landau's ministry. Delek Drilling-LP, one of Noble's partners, said June 15 that the licenses are in waters where Israel has authority.
Maritime economic zone
Lebanese Energy Minister Gebran Bassil said June 17 his country "will not allow Israel or any company working for Israeli interests to take any amount of our gas that is falling in our zone." He said Noble was warned not to work close to Lebanon's economic zone.
Bassil said Lebanon's government and lawmakers "should move quickly on starting the exploration of offshore gas."
A coastal state is entitled to explore for oil and gas in its economic zone, which extends 200 nautical miles (370 kilometers), according to the United Nations Convention on the Law of the Sea. A halfway point is used when the distance between countries is less than 400 nautical miles. Haifa, in northern Israel, is about 148 nautical miles from Cyprus, which is located north of Leviathan.
Israel is working on an agreement with Cyprus over the two countries' maritime borders, Landau said. There is no dispute with Cyprus over Israel's rights to the Leviathan gas exploration site and the Tamar field, said Landau, who last year left the ruling Likud party to join the Yisrael Beitenu party led by Foreign Minister Avigdor Lieberman. The group is the second-biggest party in the ruling coalition.
Naqoura, Lebanon's coastal border town with Israel is only 23 nautical Miles from Haifa
Border Demarcation
A Lebanese military delegation headed by the Director of Military Administration , Major General Abdul Rahman Chehaitely headed to New York on Monday to present a detailed report to the UN on Israeli attacks and violations of Security Council resolution 1701.
The delegation did not reveal the details of the report , but according to as Safir newspaper the report will also call on demarcation the maritime borders to prevent Israeli aggression against the so called maritime economic zone specially because of the presence of oil and gas along the border.
USGS report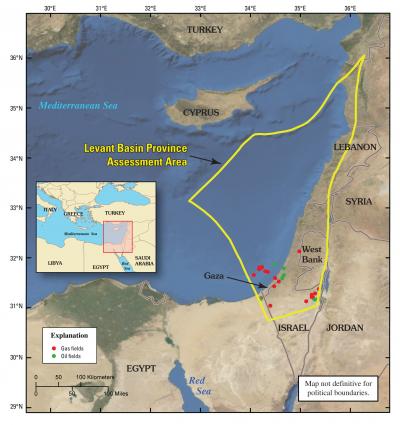 Last April USGS reported that an estimated 122 trillion cubic feet of undiscovered, recoverable natural gas are in the Levant Basin Province in the eastern Mediterranean region.
The U.S. Geological Survey estimates that the area, which includes the coastal areas near Israel, Lebanon and Syria, harbors resources that can be recovered using currently available technology.
"The Levant Basin Province is comparable to some of the other large provinces around the world," said Brenda Pierce, USGS Energy Resources Program Coordinator, in prepared remarks. "Its gas resources are bigger than anything we have assessed in the United States."
The Levant Basin Province also holds an estimated 1.7 billion barrels of undiscovered, recoverable oil. BW, USGS, Ya Libnan