Chomsky met with Hezbollah official in Lebanon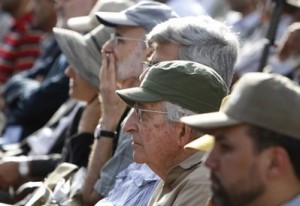 Jewish-American intellectual and an outspoken critic of Israeli policy Professor Noam Chomsky held a meeting in southern Lebanon on Friday with Sheikh Nabil Qaouk, a senior official of the Lebanon-based Hezbollah movement, and discussed several issues regarding the Middle East conflict, Israel and the United States policies.
Hezbollah inaugurated last Friday a permanent war museum, complete with replicas of guerrillas in action on the battle field and in underground tunnels, and a memorial for its war dead. Chomsky was invited for the event.
Chomsky said during the meeting that the Israeli war against Lebanon in 2006 came under an American decision in this regard.
He said that he fears that the Zionist-Christian movement and the Zionist Lobby in the United States are having bigger effects on U.S polices.
Chomsky tried to visit the West Bank last week but Israel held him at the Al Karama Border Crossing with Jordan, and deported him to Amman.
Qaouk said that the U.S weapons sent to Israel are the source of danger in the region, and that Israel's ongoing threats are causing further tensions in the region.oto:
Photo: US academic and polemicist Noam Chomsky, second right, listens to the speech of Hezbollah leader Sheik Hassan Nasrallah, as he attends the Hezbollah inauguration tourism project, in Mlita Village, south of Lebanon, on Friday May 21, 2010.