Syria begins smoke ban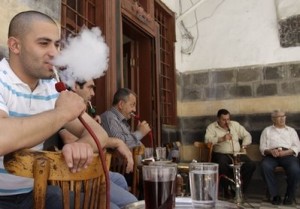 Syria began on Wednesday implementing a smoke ban in enclosed public places including restaurants, coffee shops and internet cafes.
Mixed feelings greeted the decree, which has been a law since late 2009 but without any measure to enforce it. Not all establishments were compliant on the first day of the smoke ban.
"We're expecting to receive the formal directive from the authorities in the next day or two," said Doris Kallab, manager at Gemini Group, which owns several restaurants throughout Syria.
"Once we receive it, our team of managers will go out to our outlets and ensure compliance."
According to the ruling, violators can be fined up to $800 per incident.
Syria has one of the better records in the region for implementing anti-tobacco policy recommended by the World Health Organisation. This includes a total ban on advertising tobacco in local media and billboards, whereas neighbouring Lebanon still allows such advertisement.
The country was also among the first to ratify the WHO-led Framework Convention on Tobacco Control, an international treaty that aims to incorporate health initiatives into international law.
But smoking rates in Syria are high, which is typical of a developing country. According to the Syrian Center for Tobacco Studies, a WHO initiative programme, 57 per cent of men and 17 per cent of women identify themselves as regular smokers.
Up until recently, it was not unusual to find smokers light up a cigarette in the waiting room of a maternity ward inside a prestigious private hospital in Damascus.
At an internet cafe in Shaalan, a popular area in downtown Damascus, the stench of smoke could still be felt from the previous day, the final hours before the smoke ban took effect. The establishment where young customers used to surf the net and chain smoke has now hung up "no smoking" signs, and is banning customers from smoking.
One annoyed customer who refused to give his name said the smoke free ruling was pointless.
"What are we trying to do? Be like Europe?" he said, his pack of cigarettes and lighter next to his computer.
"I just returned from Europe last month. There they increased the taxes on cigarettes making them more expensive, and they have banned planting tobacco. But here? There is none of that. We just want to implement rulings without much thought."
Two young men who were smoking outside wondered how the ruling would really be implemented.
"How is it going to work? You sit down at a coffee shop then go out for a smoke then return back in and keep going back and forth?"
But some non smoking employees were grateful for the measure, like the young barista at a Costa Coffee shop in an affluent neighbourhood in Damascus. He withheld his name because he was unauthorized to speak on behalf of the company.
"For me personally, I'm thrilled .
Photo: Syrians smoke water-pipes outside a cafe after a law banning smoking in most public places has gone into effect, in Damascus, Syria, Wednesday, April 21, 2010. A smoke-banning law approved by Syrian President Bashar Assad six months ago, has gone into effect Wednesday, amid expectations that few would abide by it in this country of millions of devout smokers. Violators of the ban, including those who sell cigarettes to people under 18 and produce or sell candies to children in the form of tobacco products, face a fine amounting to 5000 Syrian pounds (US$110.) Average monthly income in Syria is $200. (AP Photo/Ola Rifai)