Levant basin holds 122 trillion cubic feet of natural gas
An estimated 122 trillion cubic feet of natural gas and 1.7 billion barrels of oil undiscovered and recoverable are in Israel, Lebanon, Syria basin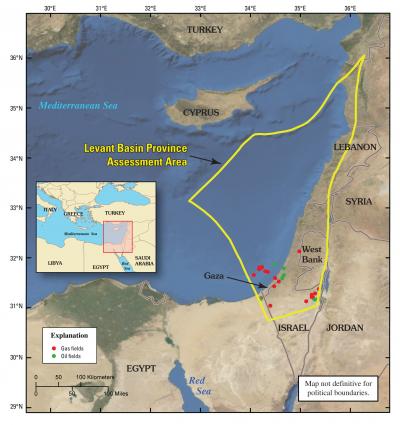 An estimated 122 trillion cubic feet of undiscovered, recoverable natural gas are in the Levant Basin Province in the eastern Mediterranean region, according to a new report.
The U.S. Geological Survey estimates that the area, which includes the coastal areas near Israel, Lebanon and Syria, harbors resources that can be recovered using currently available technology.
It's the first time the USGS has assessed the area for extractable resources.
"The Levant Basin Province is comparable to some of the other large provinces around the world," said Brenda Pierce, USGS Energy Resources Program Coordinator, in prepared remarks. "Its gas resources are bigger than anything we have assessed in the United States."
The Levant Basin Province also holds an estimated 1.7 billion barrels of undiscovered, recoverable oil. (Worldwide consumption of petroleum in 2008: 31 billion barrels.)
Worldwide consumption and production of natural gas, which is used for electricity generation, was 110 trillion cubic feet in 2008, according to Energy Information Administration data.
The three largest consuming countries in 2008 were:
* United States (23 trillion cubic feet)
* Russia (17 trillion cubic feet)
* Iran (4 trillion cubic feet)
The USGS estimates that Russia's West Siberian Basin also harbors considerable natural gas resources, to the tune of 643 trillion cubic feet.
The agency also believes the Middle East and North Africa regions have several natural gas-rich areas, including the Rub Al Khali Basin (426 trillion cubic feet), the Greater Ghawar Uplift (227 tcf) and the Zagros Fold Belt (212 tcf).
There are several areas in the U.S. that are estimated to contain extractable natural gas, but relatively less in volume:
* Southwestern Wyoming Province (85 tcf)
* National Petroleum Reserve Alaska Province (73 tcf)
* Appalachian Basin Province in the eastern states (70 tcf)
* Western Gulf Basin Province of Texas and Louisiana (70 tcf)
"Estimated" means the USGS believes the areas contain natural gas that has not yet been discovered. smartplanet