Nasrallah warns Israel: 'If you hit Beirut, we will hit Tel Aviv
Hezbollah leader Sayyed Hassan Nasrallah warned israel during his speech on Tuesday : "If you target Beirut's Rafik Hariri International Airport, we will strike Tel Aviv's Ben Gurion International Airport,"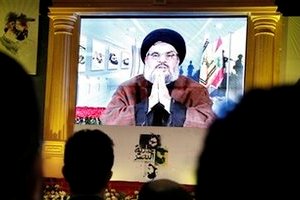 During the annual ceremony commemorating Hezbollah's martyrs, Hezbollah chief Sayyed Hassan Nasrallah decried Israeli threats saying they are part of a psychological warfare and for local consumption in Israel :
" Israeli threats tend to be a psychological warfare to frighten the Lebanese people and government and to thwart the resistance from boosting its strength. They are also an attempt at convincing Israeli citizens that Israel is strong."
Nasrallah on the other hand warned Israel that Hezbollah will strike Tel Aviv's infrastructure in retaliation for any Israeli attack on Lebanon's infrastructure.
"If you target Beirut's Rafik Hariri International Airport, we will strike Tel Aviv's Ben Gurion International Airport," he said in a message addressed to Israel.
"If you target our electricity stations and plants, we will target yours."
Nasrallah warned further that if Israel destroys one building in Dahiyeh, Hezbollah will demolish buildings in Tel Aviv.
"We in Lebanon, the Resistance, people and national army are able to protect Lebanon," Nasrallah said, adding, "We do not need anyone [else] to protect Lebanon."
The Hezbollah leader said Lebanon is stronger than ever before.
Nasrallah asked can we depend on the United states to defend Lebanon? He added neither the international resolutions nor the international community were able to protect Lebanon during the past 60 years.
"If Lebanon adopts the choice of neutralism, will it be able to regain its land in the future?" Nasrallah wondered.
He said that his party does not want war and has never asked for it, however, he added, "We are concerned with defending our people's dignity."
"Today Israel is scared and is launching threats. We should confront these threats with counter-threats, which could prevent or delay war," he said.
Nasrallah promised to avenge former top Hezbollah commander Imad Mugniyah's assassination in Damascus in 2008, but said the group will not just strike any modest Israeli target.
"We had a lot of exposed targets before us to assassinate one of the Israelis, but we didn't make use of that because we want a revenge that is at the same level of Imad Mughniyah's martyrdom." He said
Nasrallah criticized parties who claim the country should not give Tel Aviv an excuse to attack Lebanon .
Tel Aviv does not need an excuse to wage war against Lebanon, Nasrallah said. "If it needs an excuse, it will create one."
The Hezbollah leader praised Prime Minister Saad Hariri, President Michel Suleiman and Speaker Nabih Berri as well as other major parties and officials for condemning Israeli threats.
"We praise the efforts that the parties are making, especially those done by the president and prime minister."
Nasrallah said Israel has been in a state of crisis since the July 2006 and Gaza wars, because it can neither impose peace based on its own conditions, nor wage a war.
"Israel can no longer launch any new assault without guaranteeing its own victory," he said.
"Tel Aviv cannot accept any new failure, because it would mean the beginning of its [Israel's] end."
"Syria, Palestine and Lebanon, are strong enough that Israel cannot wage war on them," he added.
The Hezbollah official also praised the party's martyrs. They liberated the land and the prisoners, and inspired international respect for Lebanon, he said.
"Their only desire is that we preserve their achievements," Nasrallah added.
He also offered his condolences to the families of the victims of the Ethiopian crash and to the family of former Prime Minister Rafik Hariri on the fifth anniversary of his assassination, with special mention of condolences to Prime Minister Saad Hariri.